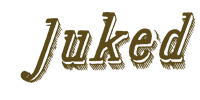 I have the first of a pair of poems up at Juked this morning.
It´s my birthday, so I was happy to wake up
and see
this poem
posted. Good to be on the same page
with some old pals.
Check back in a week or two for the next poem.
It´s
Rambo´s death scene
.
Thank you, John Wang.